Since theblitzdefence came in to being, there have been a few phrases in our live match tweets that seem to keep re-occurring.   "Oh, no…. Cuthbert" is one favourite but another common comment is "that's shocking tackling technique" from Halfpenny.
Sunday's Toulon – Scarlets game was another opportunity to dust off the well used phrase, as Halfpenny launched his head at the knees of Toulon's rampaging wing Josua Tuiosva (see video footage below and accompanying still) in a classic example of his deficient tackle technique.
Bad tacklers are often those who don't want to make the tackle, but Halfpenny is one of the bravest players in rugby and that accusation can't be levelled against him. What we can say however, is that his poor technique has (and is) putting him in danger of serious long term injury, if this hasn't occurred already.
We thought we would look back through the archives at some of his worst tackles and see if there is a pattern to the incidents, or a possible explanation for his technique.
Here are 7 examples in chronological order, starting with last weekend's European game.
(1) October 2017 (Toulon v Scarlets)
Halfpenny went off for a Head Injury Assessment (HIA) but returned to the field.
Someone needs to get hold of Halfpenny and teach him how to tackle side on. This is horrible. #touvsca pic.twitter.com/PtwreREJJa

— rugby (@theblitzdefence) 15 October 2017
Another one for Halfpenny's shocking tackling technique library.
It's a real danger to his welfare. #touvsca pic.twitter.com/hGJNvZy2aq

— rugby (@theblitzdefence) 15 October 2017
(2) March 2015 (Italy v Wales)
In attempting to tackle Italy's Samuela Vunisa he was left dazed and was removed from the field for an HIA. (3) November 2014 (Wales v South Africa)
A last ditch tackle on South African Etzebeth. (4) March 2014 (England v Wales)
Halfpenny dislocated his right shoulder in this tackle and was out for about 4 months with the injury.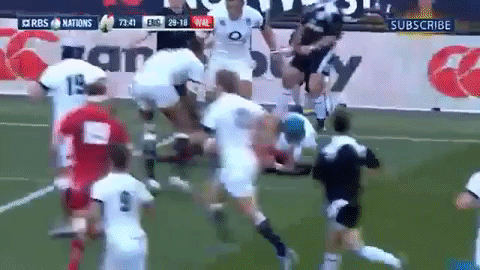 (5) October 2013 (Cardiff Blues v Toulon)
In this example he pulls out of the tackle but we can see the body shape and positioning. (6) February 2013 (Wales v Ireland)
This is more of a head-on tackle and although the technique isn't text book (he fails to clamp the legs and doesn't get his shoulder in to O'Brien's body), he does at least get his head on the right side of the attacker. (7) December 2012 (Wales v Australia)
This incident resulted in Halfpenny having lengthy treatment on the field and taken to hospital for neck scans. What's he doing wrong?
The main issue with his technique is that he tackles with the wrong shoulder, which causes his head to come across the attacker's body, rather than be tucked away behind his backside – out of the way of knees and other hard bits of the body.
This misalignment can sometimes happen if the ball carrier makes a sudden movement and the tackler doesn't have time to adjust, but this doesn't apply to Halfpenny in these examples, as there is little movement from the attacking player.  He seems to be deliberately lining up the tackle with the wrong shoulder.
Why is he doing this?
This is the tricky question. One theory is that he is protecting a damaged shoulder by tacking the contact at the tackle on the opposite shoulder (the "wrong one").
In all but one of the examples above, it is his left shoulder that should be taking the contact, with the right shoulder free behind the carrier's hips (clip 6 being the exception). What we see though is Halfpenny initiating contact with the right shoulder.
He has had a history of shoulder injuries, with a dislocation caused by the Burrell incident (clip 4), while in April 2015 he suffered a partial dislocation of the shoulder in Toulon's game against Grenoble. This was also his right shoulder.
This means the "shoulder protection" theory doesn't hold much water because even after a dislocation, he is still favouring that injured shoulder in contact. Shoulder dislocations are notoriously difficult to heal, which makes the decision to favour that side even more baffling. Does he have an older injury to the left shoulder that causes him even more problems than the dislocated side?
The other factor to consider in this theory is that some of these tackles pre-dated his dislocated shoulder against England. Again, is that related to a pre-existing injury which means he favours the right shoulder?
Any more theories?
Two more. One proposition is that by using a scrum cap he gives himself a false feeling of safety, which causes him to take more risks in the tackle ie put his head where he shouldn't!
We know that scrum caps don't protect against blows to the head when it comes to brain injury, indeed there are studies that show it may accentuate the risks.  Does the cap give Halfpenny some psychological boost that he can't be injured in the head area, which means he puts his head where he wouldn't without the cap?
The final theory is that he isn't protecting his shoulder, he just favours the right shoulder as is natural with right handed players, but hasn't developed his technique to overcome this deficiency.
To test this, try making a friendly rugby tackle against a family member and you will see your head automatically moves to the left and your right shoulder comes forward for contact (the opposite should be the natural position for someone who is left handed).
Most amateur or junior players will have this bias but they still know how to position their head and body, when tackling on their weak shoulder. For some reason Halfpenny doesn't seem to have developed this technique and as a result he is putting his welfare at risk.
Anyone have any thoughts on this article or your own theories please let us know.
Follow theblitzdefence on Facebook by liking here.