This was a classic example of an exciting modern test match; plenty of intensity, controversy but little in the way of creative or high risk rugby. That isn't to bemoan the game because it was a pulsating and enjoyable encounter for 80 minutes.
Just as a week before against France, England came good at the end and won a match that arguably they could have lost. Wales on the other hand suffered their "Australia complex" again and through a lot of their own making, managed to conjure up a defeat from victory.
Here are the main talking points from the game.
(1) Why don't Wales clear to touch?
Since day 1 of the Gatland reign, Wales have been coached to keep the ball in play when clearing defensive lines. The theory was that Wales were fitter than other teams so the more ball-in-play time there was, the more it would suit Wales. It also played to their strengths with a fast pressing line, Dan Lydiate providing the tackle and Sam Warburton jackaling to win the ball or a penalty.
In reality this approach has put Wales under pressure defensively in a number of games and we saw the same pattern again against England. There is a case to be made that 10 of England's points came from this tactic.
In this first example Biggar could have found touch on the Welsh 10m line, but instead he keeps it in play, England counter and 2 phases later – 25 metres from the Welsh line, Scott Williams gives away a penalty for a high tackle.
Another Welsh clearing kick they keep in play. Brown attacks & 2 phases later 25m from Wales line they concede pen & 3 points. #WALvENG pic.twitter.com/RoaUck0tjm

— rugby (@theblitzdefence) 11 February 2017
The second example is the missed kick that led to the match winning England try. It may be that Jon Davies was aiming for touch but history suggests he was following the team tactics.
The match winning try from Daly. #WALvENG pic.twitter.com/6aK6FMZr6p

— rugby (@theblitzdefence) 11 February 2017
(2) Driving maul – every team should have one!
If you have read theblitzdefence blog or tweets for any length of time, you'll know that the officiating (or lack of it) of the maul, is one of our big frustrations. With the officiating of the maul favouring the attacking team a strong offensive maul is a must-have to be a competitive team. As today's game showed, England have one and Wales don't.
A strong driving maul can be a great weapon which will bring tries, penalties and tie in opposition defenders.
With Wales giving away a number of cheap penalties England used the resulting lineout to good effect to set up a number of driving mauls. This is a skill that can be coached, given so many of the elements depend on the team with the ball doing the right thing. Borthwick has further strengthened England's maul but Wales' hasn't developed at all under a number of years' of Robin McBryde's coaching.
One particular Welsh maul after 71 minutes tied in all the Welsh forwards but went 2m backwards!
(3) The force of Itoje
It was fairly obvious from watching Itoje playing for England u20s a couple of years ago, that he was going to be some player. At only 22 years old he is probably one of the first names on the England team sheet, with the versatility to play second row or at blind side.
For a big guy, he is a dynamic carrier with pace and power but also some subtle hands when needed. This clip shows him setting up a try for Anthony Watson in last year's England – Wales fixture.
He has played well in this year's 6 Nations to date but a couple of potential areas of weakness have shown up that he needs to be aware of. In the French game he gave away one penalty for a high tackle and was very lucky not to concede a second, and in all probability a yellow card, later in the game.
The second area is his tendency to flop off his feet at the ruck when he is trying to jackal the ball. Although few players actually support their body weight at the breakdown, his lurch in to contact is quite obvious and something he may get a reputation for if officials start to pick him up for it.
Here are a few of the interesting body position he got himself in to when attempting the jackal.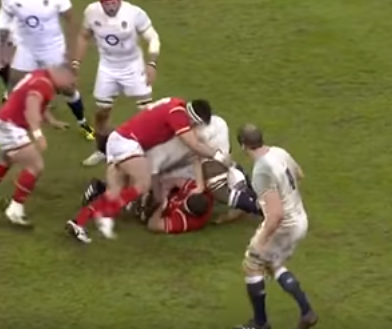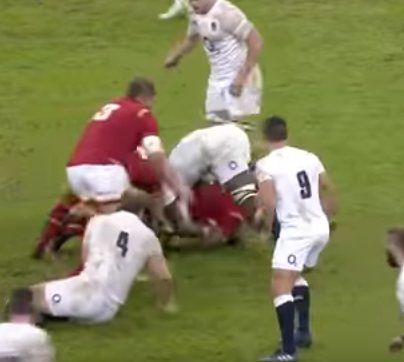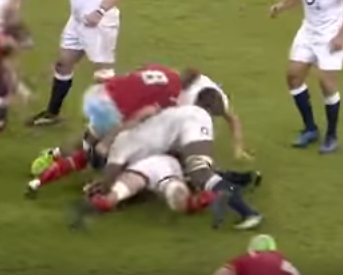 (4) Cuthbert
No rugby players should receive personal abuse for playing the game but it is legitimate to criticise players when they are at fault. Unfortunately Alex Cuthbert has had a lean couple of years and the list of individual errors is building up.
Looking back at the deciding try in yesterday's game we know Jon Davies' kick has put Wales under pressure, but Cuthbert's defence was also culpable in allowing Daly to score the try. Here's the clip again.
If we freeze the footage we can see that Ford has spotted the space on Wales' left hand side and quickly transferred the ball to Farrell. The yellow line shows a gap has developed between Roberts and the inside defence of Tipuric.
As play develops the gap between Tipuric and Roberts closes. England don't have a numerical advantage and Roberts seems to have Farrell lined up for a tackle. If we look at the wing positions Daly has started to drift towards the toucline but Cuthbert is still only a metre or so from Roberts and is watching the ball, not Daly's positioning.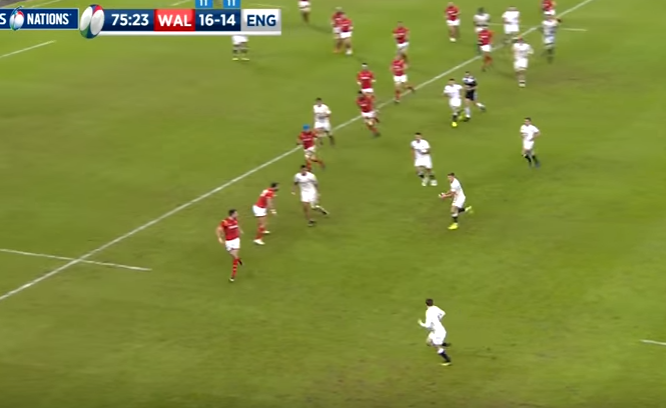 In the next shot (see below) we see Roberts about to make the tackle on Farrell but he gets an excellent pass away, allowing Daly to hit the ball at pace and continue his arcing run to the corner flag. Cuthbert now turns his attention to Daly.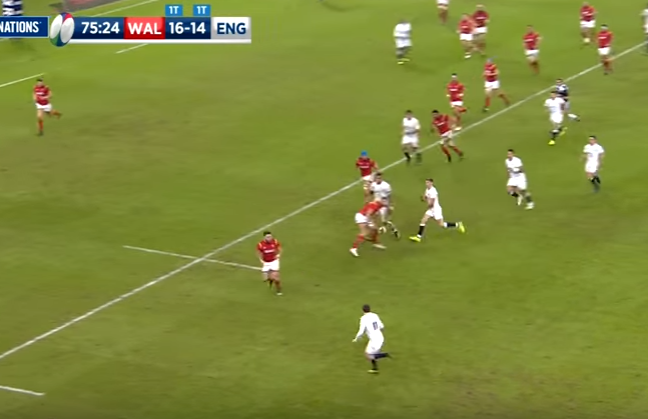 We don't know why Cuthbert stayed so narrow for so long. Perhaps he lacked trust in the inside defence to come across, maybe he thought he would have the pace to catch Daly – we don't know. We do know that given that much space, Daly's pace was enough to beat Cuthbert on the outside, which is rare at top test level.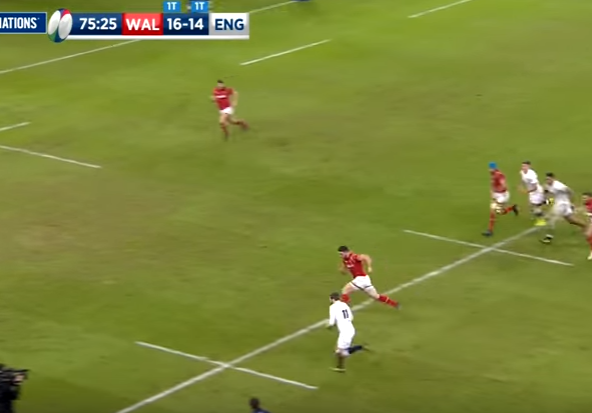 Looking back through the footage Cuthbert could also be partially held responsible for England's first try as the footage below shows.
Cuthbert initially helps to slow the English charge and then finds himself as the first defender in the pillar position on Wales' right flank. This isn't an ideal position for a winger but once he found himself there he had to tuck in tight to the ruck and hold the line.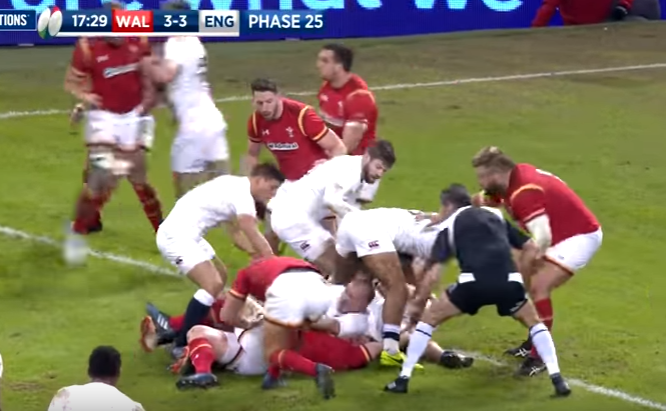 Instead we see him watching the ball again and not getting in to the correct position. Daly is standing in the Welsh pillar position but Cuthbert doesn't do anything to move him and take up that position. Youngs has an easy dot down given the lack of defensive cover.
These two defensive traits of Cuthbert's – ball watching plus not trusting inside defence were also evident in the Rugby World Cup quarter final against South Africa which again lead to the deciding try.
To follow theblitzdefence like us here in Facebook.